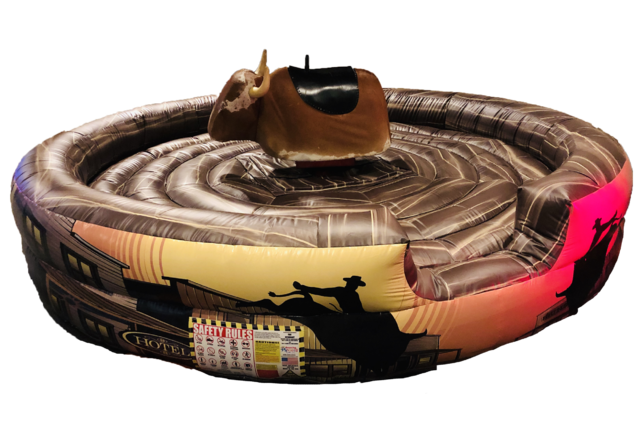 Description
The Mechanical Bull is the center of attention at any party or event. This Mechanical Bull is great for all ages, can be controlled for slow movement for smaller kids, and can also buck and spin faster for teens to adults. The Bull ride head is made of Sofolex Soft Foam for the safest bull ride in the industry. Rent this mechanical rodeo bull ride for your next event and see how much fun you and your guests can have. Price includes an operator attendant for the duration of the event. Good for kids 8 years old to adults weighing under 200lbs.
This ride can not go up or down staris. Gates must be at least 36" wide. Pathway must be cement or grass, can not go through gravel, sand, or uneven surfaces. 2 - 20amp seprate electric ciruits required within 50' of set up location. Each adult rider must sign a liablity waiver on a tablet before each ride, if minior is riding then parent/guardian must sign for minior.
Electrical Outlets Required: 2
Ride Operator Incldued: Yes
RENTAL PRICE
Extra Hour - $200 per hour
1. Adult supervison required at all times.
2. A maximum of one participant with a minimum height of 48'' and maximum weight limit of 200lbs is permitted on mechanical Bull.
3. Remove shoes, eyeglasses, and loose fitting jewelry prior to participation.
4. Participants must obey instructions provided by attendant operating this attraction.
5. Food, beverages, or chewing gum is not permitted during participation.
6. No persons permitted to participate in game without Adult Supervision.
7. Spectators should not sit or lean on game while observing and should remain a minimum of three (3) feet back away from inflatable amusement device.
Contestant must be in good physical condition to participate. Do not Participate if you:
HAVE MOTION SICKNESS

HAVE BACK, NECK, OR HEART PROBLEMS

ARE PREGNANT

HAVE HAD FRACTURES ESPECIALLYIN THE SHOULDER OR ARM AREA

HAVE PRE-INJURED TENDONS

HAVE LIMP PROBLEMS

HAVE PHYSICAL OR MEDICAL PROBLEMS

ARE UNDER THE INFLUENCE OF DRUGS OR ALCOHOL

HAVE A SIGNIFICANT PHYSICAL AILMENT OR CONDITION

HAVE HAD A BACK, NECK OR ANY OTHER TYPE OF SKELETAL OR MUSCULAR PROBLEM OR PRE-INJURY

HAVE HIGH BLOOD PRESSURE, HEART TROUBLE OR NERVOUS DISORDERS

SAFETY OF YOUR GUEST IS OUR FIRTS PRIORITY, THE OPERATOR'S DECISION IS ALWAYS FINAL