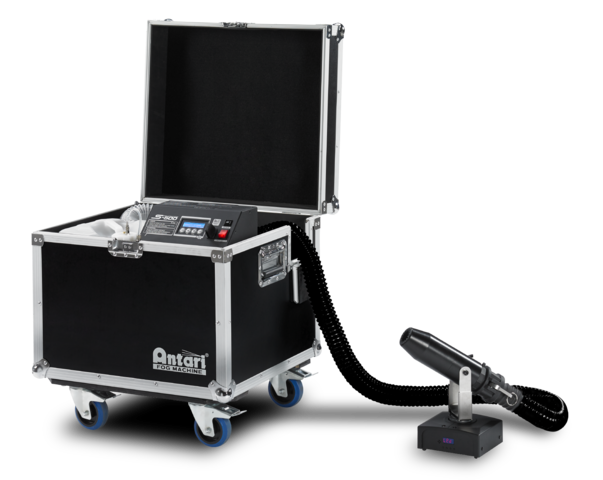 Snow Machine
Our New Artificial Snow Machine Rental is a "silent" large capacity 5.2 gallon (20-liter) fluid tank capacity with a 33' long hose Snow Machine. It can easiy mount on stand or truss. Rental of our Artificial Snow Machine comes with 5 gallons of snow fluid which will last about 50 minutes on 100% (high output), or 1.5 hours on lower output (50% output). We will not refund or credit anyone for variances in output, performance, or fluid usage. This snow machine is a commerial grade snow machine and uses a lot of fluid. Our snow machine comes with a DMX remote control that is used to turn ON and OFF the snow machine and also adjust the size of the snow flake from fine to heavy as well as the fan speed. Additional snow fluid can be purchased. Each 5 gallon jug of snow fluid is sold at $125. Rental of our snow machine includes 5 gallons of snow fluid, but more snow fluid can be purchased for additioanl usage.

The artificial snow is basically small pieces of non-toxic foam that will disappear after a short time on the ground and has the real look of snow fall. The snow fluid will not stain and is 100% biodegradable, but will make the floor slippery. Not recommended for small enclosed areas. It is recommended for use outdoors only. Rent a Snow Machine for your next winter wounderland Holiday Special Event!

Electrical requirements: 10 amp, 110v
Warm Up Time: instant snow
Distance of Snow Throw: 80 feet (starting at ground level)
Width of Snow Throw: 30+ feet
Size of Flake: small flurry to large silver dollar flakes.
Evaporative Time: 30 seconds-120 seconds
Length of Snow Per Gallon: 10 minutes per gallon at 100% Max output / 15 minutes per gallon at 75% output / 20 minutes at 50% output / 30 minutes per gallon at 25% output.