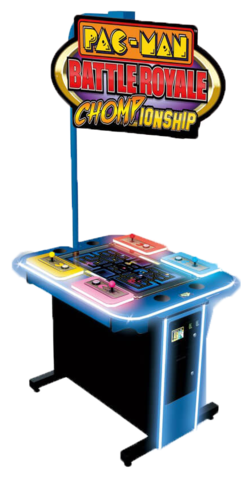 Pac-Man Battle Royal CHOMPionship Game 4 Player
- The First 4-Player Competitive Pac-Man Game! - Eat Power Pellets and Grow in Size to Gobble Up Your Opponents for the Win!
- Features a Bright 32in LCD Monitor
- Control Your Pac-Man with Classic Joysticks Just Like the Original!
- Displays Statistics Such as Won the Most Rounds or Ate the Most Pac-Man at the End of Each Round

Rent this awesome 4 player Pac-Man battle Royale arcade. Up to four players can compete at once, choosing a game length of between three and nine rounds. Each player controls a differently colored Pac-Man character; a single player faces one computer-controlled Pac-Man opponent. The players move throughout a maze, avoiding ghosts and attempting to eat dots and power pellets scattered throughout. New dots and pellets appear whenever the players eat them all. In addition; if any player eats a bonus item that appears next to the ghosts' cage, all remaining dots and pellets are immediately removed and replaced.

Each round lasts a maximum of two minutes, with an on-screen countdown for the last 10 seconds. The last remaining Pac-Man wins the round. All players are brought back into the game at the start of each new round; after the final round, the player with the most victories is the overall winner.
Dimensions 34″W X 45″L X 60"H. Electrical Outelts Required: 1 - 110v