Margarita Machine - Frosty Factory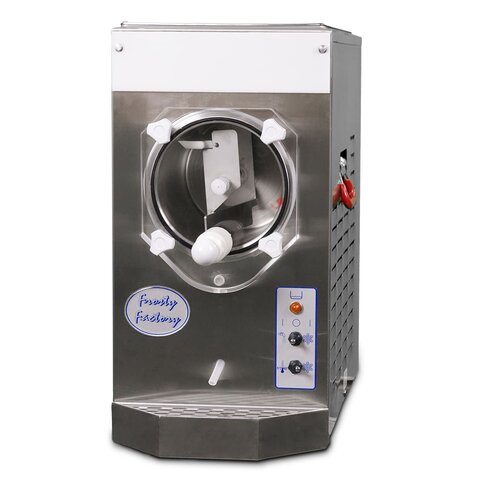 1 Day Rental
Up to 9 hours

$175.00

Cash Discount
COUPON CODE: cash5

Save 5% OFF

Description
Rental includes one free bottle of mix of your choice (lime, strabwerry or mango). Customer must provide own water, cups and alcohol (optional). One batch makes 70 - 9oz servings. Cart and black cart skirt is includeld with rental.
Machine has to be placed indoors or in a shadded area, it will not freeze or take longer to freeze when outside in hot temperture. Do not place in direct sunlight. Freeze time is 1-2 hour. Please, start up the machine at least 2 hours before the start of your party.
IT IS VERY IMPORTANT TO FOLLOW THE CORRECT MIXING RATIOS, IF THE MIXING RATIOS ARE NOT EXACT THE MACHINE WILL OVER FREEZE OR NEVER FREEZE. ADDING TOO MUCH ALCHOLOL CAN OVERFREEZE THE MACHINE AND CAUSE THE MACHINE NOT WORK PROERLY. PLEASE FOLLOW THE MIXING RATIOS ACCORING TO YOUR MIX FLAVOR. IF YOUR DRINKS ARE VIRGIN, JUST MIX WITH WATER AND SKIP THE ALCOHOL (ALCOHOL IS OPTIONAL).
Customer must proivde own water and alcohol (optional).
Lime Mix requires 3 gallons of water and 3 litters of tequila. Makes 70 - 9oz drinks.
Strawberry Mix requires 3 gallons of water and 3 litters of tequila or 2 litters of rum. Makes 70 - 9oz drinks.
Mango Mix requires 3 gallons of water an 2 litters of tequila or 2 litters of rum. Makes 70 - 9oz drinks.

Click here for operating instructions
Disclaimer:
Cindy's Jumpers, LLC does not sell, distrubute or provide any type of alcohol or alcoholic mixes. The use of our equipment in a safe and responsible manner is the responsibility of the customer. If alcohol is placed in our equipment, it is the sole responsibility of the customer to use sound judgement, to prohibit under age consumption of alcohol, and to protect against driving under the influence of alcohol.
IMPORTANT INFO: This machine requires a dedicated 20amp dedicated outlet. It is the customers responsability to make sure there is a dedicated 20amp working outlet at the event. The power cord is 3' ft long, if an extension cord is needed only use a heavy duty 12guage extension cord. We rent these heavy duty cords for $15 each and they are 50' long. Any thinner guage extension cord will cause it to become hot and damage the machine. We also rent generators with dedicated 20amp outlets for an extra fee if needed.