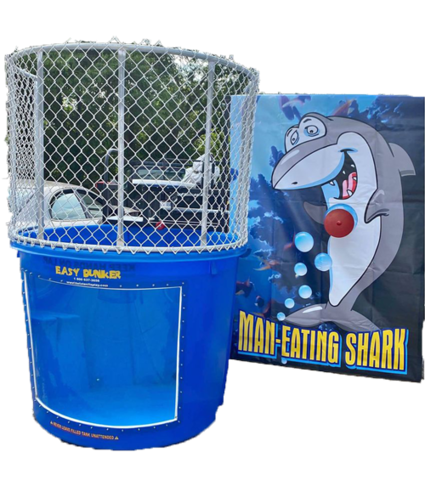 Dunk Tank - Trailer 12'x12'
Our trailer Dunk Tank rental holds 500 gallons of water and has large clear viewing window in the front to view person being dunk. Great for schools, churches and fund raisers. Minimum height to get dunk is 60" tall, and no more than the max weight limit of 250lbs. Dunk tank can take up to 1 hour to fill up depending on water pressure. We do not provide the water or water hose. Please select a set up area near a water source. Rental includes 3 softballs. All rentals are 9 hours max per day.
CUSTOMER NEEDS TO PROVIDE A WATER SOURCE TO FILL UP THE DUNK TANK. DUNK TANK CAN TAKE UP TO 1-2 HOUR TO FILL UP DEPENDING ON WATER PRESSURE. ADULT SUPERVISOR REQUIRED AT ALL TIMES.
PLEASE BE ADVISED THE WATER WILL BE DRAINED AT THE SAME LOCATION WHERE THE DUNK TANK WILL BE SET UP.
THIS DUNK TANK IS A TRAILER AND HAS TO BE BACKED IN WITH A TRUCK, SO SET UP AREA HAS TO BE VEHICLE ACCESSIBLE. WE CAN NOT GO DOWN OR UP STAIRS OR SET UP ON DIRT, ROCKS, GRAVEL, SAND OR MUD.
Safety Rules:
ALLWAYS HAVE AN ADULT SUPERVISING. Never leave dunk tank unattended.
Cordon off a section of the side, back, and between player and dunk tank as "danger zone" as some balls may be deflected when thrown. Never let anyone in the danger zone.
Never place dunk tank on a platform or stage as this weights over 4,500lbs when full.
Do not overfill, leave at least 8" from the top of the dunk tank.
Only one person should be seated in the dunk tank at once.
Keep all persons under 5' and over 250lbs off the dunk tank.
Any one with medical conditons but not limited to pregnacy, heart conditions, back injuries, etc. should not be allowed on the dunk tank.
To keep from slipping, the dunkee, must alwasy wear rubber shoes.
Please ensure seat is locked in place before entering dunk tank.
Dunkee must move up to the front of the dunk tank when coming out of the water to avoid being hit n the heat by the seat.
Never use hard balls.
Never stand or kneel on seat.
Dunkee must seat as far away in the seat as possible and keep in their lap at all times. Never hold on to anything.
Do not allow anyone to hit target with hands.
Never operate in a storm.
Don't have a water hose? We rent 50' water hoses for $15 each.
Electrical Outlets Required: none
Space Required: 12' x 12' x 8'
Actual Size of Unit: 10' wide x 10' long x 8' high
Capacity: 1, taller than 5' and no more than 250lbs in weight
Adult Supervision Required: Yes, 1