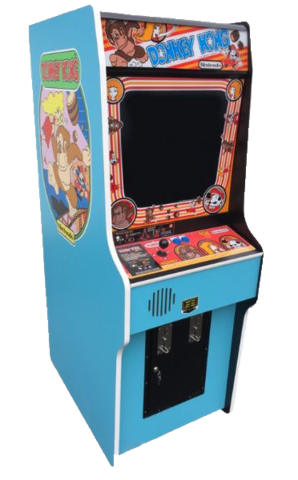 Donkey Kong Arcade Game
Lookging for an Arcade Rental? We have Arcade Game Machines for Rent! Rent this Arcade Game for your next special Event. It is a Donkey Kong themed arcade and its loaded with 19 different games. Great for any special event.
Note: All arcade Games must be set up indoors or under a tent/canopy. To have the best screen view they can not be in direct sunlight.
Game List:
1. Super Mario Bros
2. The Simpsons
3. Super Sidekick 2
4. NBA Jam
5. Ninja Turles: Turtles in Time
6. Punch Out
7. Golden Axe: The revenge of death adder
8. Centerpide
9. Metal Slug 3
10. Wrestle Mania
11. Rolling Thunder
12. Tetris
13. Tron
14. Star Wars: Trilogy
15. Donkey Kong
16. Donkey Kong Jr
17. Space Invaders
18. Dig Dug
19. Sonic 2: The headgehog
20. Blits 99
Ages: Suitable for all ages
Dimensions: 24″W x 30″L x 60″H
Electrical: 1 electrical outlet needed