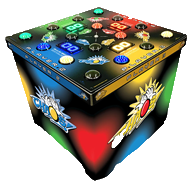 Chaos Strike-A-Light Arcade Game
Chaos Strike-A-Light Arcade Game is a fast pace game for rent. Up to 4 players can play the game at once. Each player tries to hit all the lights corresponding with their color. Since the colors move around the board and creating a real Chaos.
Playing the Chaos game has some really easy rules. Hit your color button and you gain a point. Hit an unlit button and you lose a point. There will only be 1 winner!
This arcade game can be played with 2 or 4 players. Rent this Choas strike-a-light arcade game for your next special event. Player 1: Red, Player 2: Blue, Player 3: Yellow, Player 4: Green.
Ages: Suitable for ages 7 to adults
Dimensions: 48″W x 48″L x 36″H
Electrical: 1 electrical outlet needed