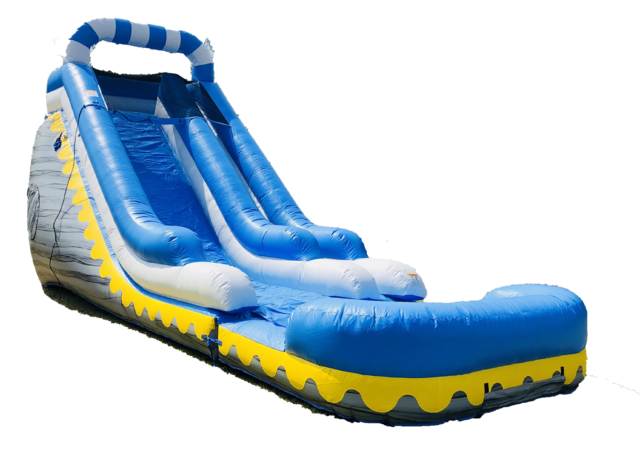 21' Gray Marbel Water Slide 505 13'x36'
Our Blue and Gray Marbel water slide is great for all ages. This water slide is recommened for kids 5 years old and older to adults. Requires a water source nearby to fill up the pool.

Don't have a water hose? We rent 50' water hoses for $10 each.

Electrical Outlets Required: 2
Space Required: 16' x 40' x 23'
Actual Size of Unit: 13' wide x 36' long x 21' high
Capacity: 4-5 kids
Adult Supervision Required: Yes, 2
IMPORTANT - PLEASE DO NOT TURN OFF THE BLOWER OR DEFLATE THE WATER UNIT UNTIL THE DRIVER ARRIVES FOR PICK UP. THE DRIVER WILL DEFLATE THE INFLATABLE WET UNIT. IF THE INFLATABLE UNIT IS TURNED OFF WITH WATER IN IT, WATER WILL GET INSIDE AND MAKE THE UNIT HEAVIER AND HARDER TO DRY OUT RESULTING IN AN EXTRA CLEANING FEE/LABOR FEE OF $100 CHARGED.